Why Do We Up-Cycle?
---
In General:
- A Leather Product Produces 25% Wastage.

Example:
- 20 Sq. Feet Of Actual Leather In Hand-Bag Uses 25 Sq. Feet Leather.
The Wasted Leather Is Discarded & Mostly Ends Up Land File.
- Hence Very Damaging To The Natural Eco System
---
What Is Your Up-Cycle Process?
---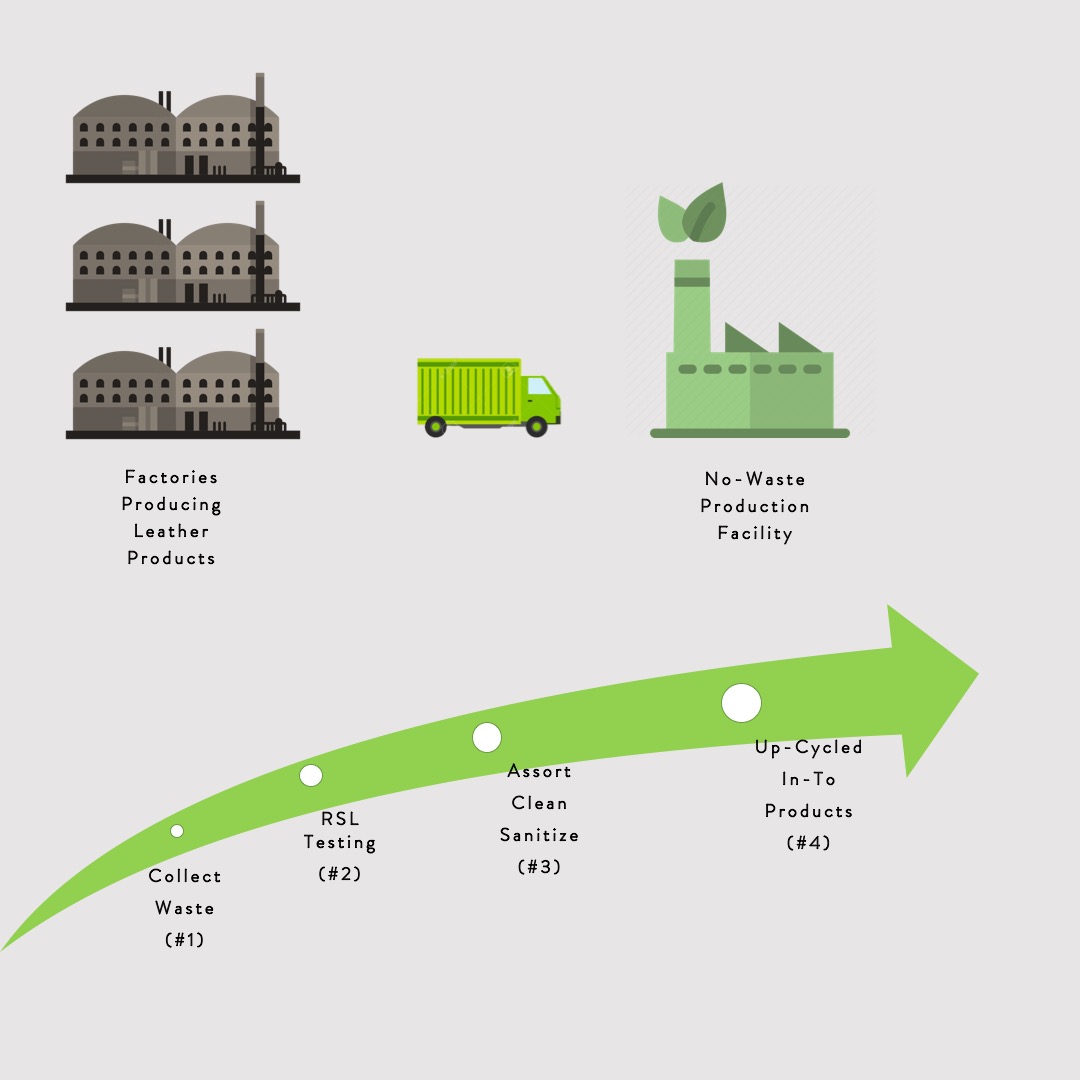 Product Research & Design Happens In New York, United States
The Wasted Raw Material Is Collected From Various Factories In South India Which Produce
- Leather Glove,
- Leather Shoes
- Leather Hand-Bag &
- Leather Jacket
After The Raw Material Arrives In Our Unit
- Product Is Assorted
- Under Goes Testing (Chemical Safety & Related)
- Finally, After Testing Production
---
How Do You Calcuate Landfill Space Saved?
---
Every Product Height, Width, Length Is Calculated. We Multiply The Above Value by Number Pieces Produced Every 15th Of Month We Update The Appropriate Value For Example: Hang Tag : 5cm x 4cm x 0.1cm = 2 cubic cm Number Units Produced = 1000 Total Land FIle Saved = 2000 cubic cm (0.0002 cubic meters)
---
Can You Tell Me More About The Company NoWaste.Green?
---
NoGreen.Waste Is Subsidary Owned By MTI New York, USA.
At MTI USA we strive to bring innovative sustainable materials to our clients (retailers, wholesalers and e-commerce).
MTI'S daily contact with progressive mills who are developing and researching improvements on how to save energy, water and be able to recycle or biodegrade at a faster pace without harming the environment. This brought me to start this website directed to everyone that has sustainability as a priority in their fashion business.

No.(W)aste or Nowaste or Now-no-waste are different interpretation of a change of mentality:

Reduce, Re-use and Recycle is our goal!

Pls check our products and condition and order online, our team will reach out to you to confirm the sales status of your order.

---
---